Where is Poitiers located?
Flying
Poitiers-Biard airport
Direct route from London-Stansted, Edinburgh (UK), Shannon (IRL), Barcelona-Girona (SP) operated by Ryanair.
Direct route from Lyon and European cities operated by HOP and Air France.
More information on: www.poitiers.aeroport.fr
From the airport, regular taxis will drive you to the conference location in 15 min. A shuttle service will be organized as well.
Other nearby airports
Several airports within easy reach: La Rochelle, Tours — Val de Loire Airport, Angers, Limoges, Bordeaux — Mérignac Airport, and Nantes. These are served by Air France, British Airways, Flybe, easyJet and Ryanair flights.
Paris airport
Poitiers is located just 1h40 away from Paris with the TGV train. Major Paris airports are Roissy-Charles de Gaulle (CDG) and Orly (ORL). Information and booking can be made on their website.
With the TGV train
Other than Paris, coming to Poitiers with the TGV is definitely a good option, even from cities outside of France such as London, Brussels, etc. Booking will be available at voyages-sncf.com and time tables online 3 months ahead (end of February).
SNCF railway station, Bd Grand Cerf, 86000 Poitiers, France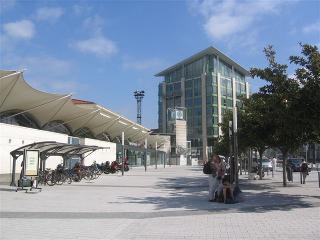 Driving
For examples, with the A10 highway, travelling from Paris will take you 3h and only 2h30 from Bordeaux.